Taste of Downtown
Don't miss out on the annual Taste of Downtown!
The sixth annual Taste of Downtown is Manhattan's downtown community culinary experience. With offerings from multiple local restaurants for one price, you will spend the evening sampling the best that downtown has to offer.
TicketsParkingCheck-inWhat to ExpectFor a Cause
We encourage attendees to park at the Hilton parking garage located at 3rd and Ft. Riley Boulevard. There is ample space available and the location is convenient for check in at the Flint Hills Discovery Center.
Additional parking information can be found here.
All attendees must check in at the Flint Hills Discovery Center to get their event tickets. Check-in will open at 4:30 p.m. and close at 7:00 p.m. Tickets must be purchased online and there is no ticket will-call at the event check in.
After checking in, attendees are given a brochure that lists the offerings of the evening and doubles as your ticket for the night. As you stop at each restaurant, simply present your brochure and receive the special dish that the restaurant has prepared specifically for the event!
Downtown Manhattan, Inc. and the Little Apple Optimist Club have partnered together to create this event. Proceeds of the event will go to benefit youth programs in the Manhattan area and the Downtown Manhattan business district.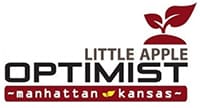 This event is conducted in partnership with the Little Apple Optimist Club of Manhattan. Proceeds from this event benefit the youth programming which the Optimist Club supports as well as Downtown Manhattan, Inc., special event programming.
Participating Restaurants