Third Thursdays
June 20, 2019 @ 5:30 PM - 8:00 PM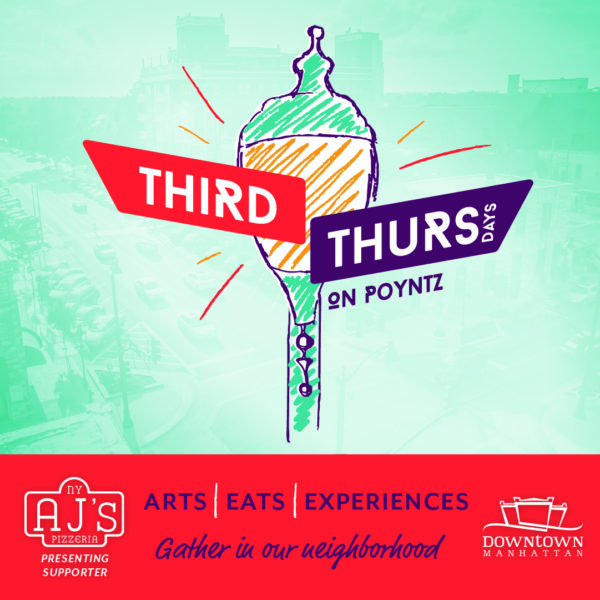 Visit Downtown every Third Thursday from May until September!
We'll see you on June 20 starting at 5:30 pm!
Highlights include:
Six Mile Creek on AJ's patio
Junk of the Heart from Alicia Firstbrook-Stott
The Boutique – "3rd Thurs Threads" rack 50% off, BOGO Lollia, and the chance to win a $250 gift card!
ARTastic kids art project
Digital paintings from Jeremy Ricci
Model Call at G. Thomas Jewelers
Music featuring Paul Hunt
Henna from Ann Warren
Coffee cup caricatures at Pool House
Becky Drager's paintings
Treats offered by The Well
Jewelry from April Hart
Music from James Wesley Sperman & Ben Chaverin
Caricatures by Jason Stewart
Art from Kelsey Hoines
Imagination Blocks from Manhattan Parks & Rec
Music from Kaw Creek
Pottery throwing demonstrations from Terry Rempel
A cake walk at Bourbon & Baker at 6:30 (limited to 10 participants)
Live remote with Powerhits 97.5
Belly dance performance by Lisa Jean
Paintings by Don Lett
DASH – the new Downtown Area Shuttle
Kaitlyn Gebhardt's artwork
Brow event at Salon Brands
Music from The Atchisons
Trunk Show at Strecker Nelson West Gallery
Paintings from Christina Minton
20% off storewide at Bling, and the chance to win a Kendra Scott necklace!
Music from Hotel Gypsies
After Hours: Stay late to see these bands! 
Bailey Callahan on Tallgrass Tap House's roof top patio at 8:00 p.m.
M31 at Finn's Neighborhood Pub from 7:30 – 10:30 p.m.