Third Thursdays
September 19, 2019 @ 5:30 PM - 8:00 PM
Free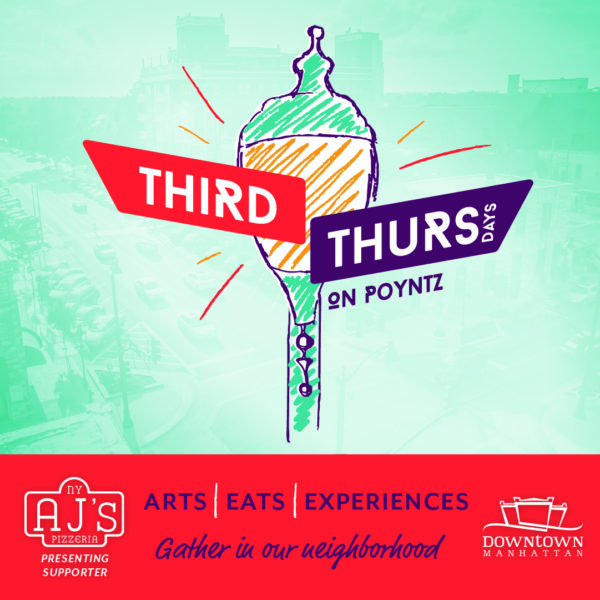 Visit Downtown every Third Thursday from May until September!
We'll see you for the season finale on September 19 starting at 5:30 pm!
Highlights include:
Sebastian Nelson's ink wash and watercolor
KSU Tatsumaki Yosakoi Japanese Dance Club
Music from Drunken Roots
20% off store-wide at Bling
Spray paint art from Kenneth Pickett
Harry's cocktail hour until 8:00 p.m.
Paintings from Patricia Adams
Coffee samples and 10% off clothing at Rooted
Fiber art from Marla Shoemaker
KSU African Drum & Dance Ensemble
Tara Dean's paintings
Pine & Plaid – the new downtown men's store, open until 8:00 p.m.
Music from Nate Hernandez
Art from Donna Rose
A cake walk at Bourbon & Baker at 6:30
Jeanette Law's wire art & jewelry
Pottery throwing demonstrations from Terry & Sara Rempel
Six Mile Creek on AJ's patio
Paintings by Don Lett
The Boutique – Last chance to win a $250 gift card!
Henna from Ann Warren
Music from Hotel Gypsies
SNW Gallery Trunk Show
ARTastic kids art project
After Hours: Stay late to see these bands! 
Spencer McConaghy on Tallgrass Tap House's roof top patio from 8:00-10:00 p.m.
Mike Greim at Finn's Neighborhood Pub from 8:00-11:00 p.m.