Third Thursdays
May 16, 2019 @ 5:30 PM - 8:00 PM
Free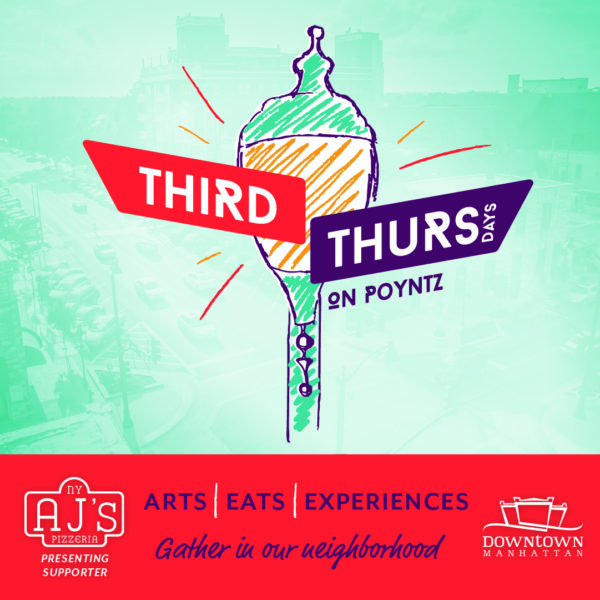 Visit Downtown every Third Thursday from May until September!
We'll see you on May 16 starting at 5:30 pm!
Highlights include: 
A cake walk at Bourbon & Baker at 6:30 (limited to 10 participants)
Aerialist performance by Flight Risk
Paintings by Phyllis Pease
"Emily's Third Thursday Bash" – a fundraiser hosted by The Chef Cafe, featuring Philosophy of Lions
Melissa Donlon's artwork
"The Art of Brows" at Gaia Salonspa – free brow demonstrations & free brow tint with any brow wax
Music from The Grateful Dudes
Trunk Show at Strecker Nelson West Gallery
Pet portraits from Janan Camera
The Boutique – "3rd Thurs Threads" rack 50% off and the chance to win a $250 gift card!
ARTastic kids art project
Paintings from Patricia Adams
Music featuring Sally Vee from Sally and the Hurts
Henna from Ann Warren
Calligraphy demonstrations at Confetti & Cashmere
Becky Drager's paintings
Treats offered at The Well
Fiber arts from Marla Shoemaker
Music from Brian Nelson of Drunken Roots
Caricatures by Jason Stewart
Imagination Blocks & Giant Jenga from Manhattan Parks & Rec
Pottery throwing demonstrations from Terry Rempel
After Hours: Stay late to see these bands! 
Ken Gustin & Chris Biggs on Tallgrass Tap House's roof top patio from 7:00 – 9:00 p.m.
Santiago Brothers at Finn's Neighborhood Pub from 7:30 – 10:00 p.m.