FHDC Aerospace Day
August 26 @ 10:00 AM - 5:00 PM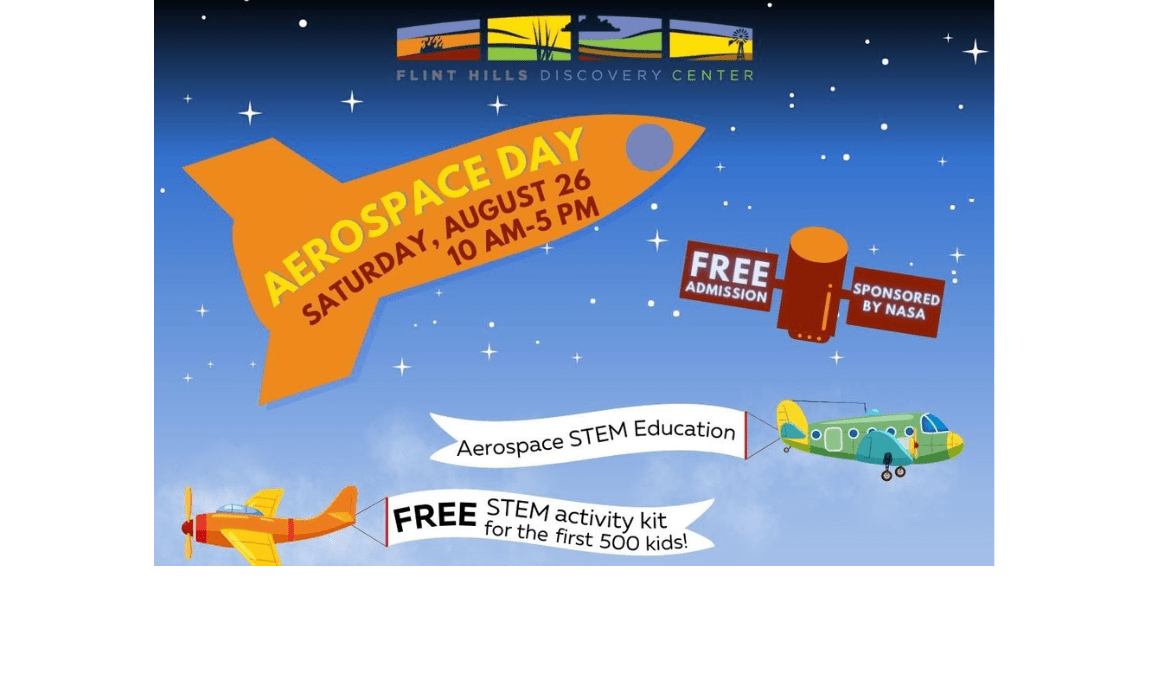 Blast off at Aerospace Day with the Flint Hills Discovery Center on Saturday, August 26, from 10 a.m. to 5 p.m. This event features fun STEM (Science, Technology, Engineering, Mathematics) activities for kids that embrace the world of aviation and space flight.
The Discovery Center is partnering with Kansas State University Salina Aerospace and Technology Campus to bring the high-tech world of aviation to Manhattan. Thanks to a grant from the National Aeronautics and Space Administration (NASA), admission to the Discovery Center and all activities are free this day.
At Aerospace Day, youth of all ages are invited to:
Pilot a flight simulator
Design and launch rockets
Fly state-of-the-art drones
Perform flight experiments
Create Balsa wood gliders
Meet pilots and engineers
Explore model airplanes
Learn the history of NASA
View and touch real aviation artifacts
Watch model Harry Potter Snitches fly
See the Mission Aerospace temporary exhibit
The first 500 kids will receive a free STEM activity kit.
"Not every kid can see themselves working on state-of-the-art aircraft or rockets that fly into space," said Sally Dreher, FHDC Curator of Education "That's why an event like Aerospace Day is so critically important where every child can meet a pilot, technician, or engineer who looks like them and hopefully inspires them to pursue education and a career in the aerospace industry."
The event will feature various K-State student groups including the Minorities in Aerospace and Technology Club, Society of Hispanic Professional Engineers, and Society of Women Engineers.
Additional partners include the Kansas State University College of Engineering, the University of Kansas Aerospace Engineering program, DoD Kansas STARBASE, the Combat Air Museum of Topeka, the Eisenhower Presidential Library & Museum, Flint Hills Experimental Aircraft Association Chapter 1364, Spirit AeroSystems, and Olsson Engineering.
The Grill to Go and Jinzy Co Food Truck will have lunch available for purchase from 11 a.m. to 3 p.m. and Scarecrow Snowcones will be on-site from 11 a.m. to 5 p.m. Sunny 102.5 will be on location with a live remote from 10 a.m.-12 p.m.
Funding for Aerospace Day comes from a $40,000 Community Anchor grant from the National Aeronautics and Space Administration (NASA). The FHDC was one of only 17 institutions to become a Community Anchor, recognizing it as a local hub to bring NASA STEM and space science to students and families in traditionally underserved areas. Additional details about the NASA grant and a list of all funded projects can be found here: www.nasa.gov/press-release/nasa-selects-21-new-learning-projects-to-engage-students-in-stem.