Third Thursdays
Visit Downtown every Third Thursday from May until September!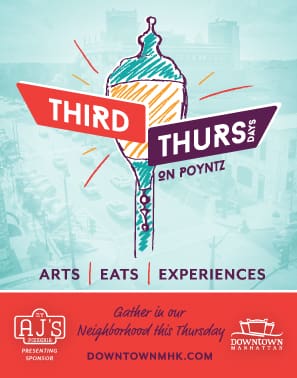 MANHATTAN, KS,  5:00pm – 8:00pm 
Every Third Thursday May – September 
Stop by Poyntz Avenue and enjoy the art, cuisine, music and experiences of Third Thursday! The Third Thursday season may only last through summer, but the fun is just beginning. Engaging activities will be available for both young and adult attendees, ensuring that everyone who comes will find something they enjoy.
See you again May 19th!
May Artists
Flight Risk Aerial Display
Ginny Young
Daph & Co.
Matthew J. Olson
Broken Canon Cosplay
Alicia Firstbrook-Stott
Patricia Adams
David Schimming
Ann Warren
Rick Smith
First Methodist Bluegrass Band
Terry Remple
Katie Benson
Fragrant Candle Blends
Missy Burke
Participating Businesses
The Bourbon & Baker Cake Walk – 6:00pm in between Bourbon & Baker and the Salvation Army
Finn's Pub: $11.00 60oz Domestic Pitchers and $15.00 60oz Premium Pitchers on sale as well as live music from 8-11 featuring Caleb Nelson
Manhattan Brewing Co.: New Beer Release! Tang Party is a dry hopped Tangerine sour that is loaded with tangerines and dry hopped with Cascade hops! Smokin H's Meats will be in the house serving up some amazing BBQ from 4-8 pm!
SNW Gallery: Summer framing sale starting on Thursday! 20% off materials on all diploma framing and the sale runs through July 30. For more information: www.snwgallery.com/framing.php 
Flight Crew Coffee: Open late and serving up cold brew coffee!
The Boutique: Open until 8pm and 3rd Thurs Thread rack with 75% off!
Pine & Plaid: Open until 8pm and 3rd Thurs Thread rack with 75% off!
Gaia Salon: 25% off all AVEDA products for the Essentials Sale!
Pool House Kitchen & Bar: $6 Painkillers and $4 Hotdogs
Arrow Cocktail Lounge: $6 Old Fashioneds, House Gin & Tonics and House Wines & $14 Sicilian Pizzas
Bling: Open until 8pm and offering 20% off regular priced merchandise for Third Thursday!
ROOTED: Open late until 8pm.
Tallgrass Tap House: Live music on the Rooftop from 7pm-9pm!
El Patron: $5 Lime Margaritas, $8 Coronaritas, $6 Palomas, & $11.50 El pollo!
Furnish: Stop by for a Third Thursday drawing/giveaway!
Interested in exhibiting or performing for Third Thursdays? Fill out the form below.
Special thanks to AJ's New York Pizzeria for being the 2022 Presenting Sponsor and Eagle Communications for being our Neighborhood sponsor of the Third Thursdays event series.