Third Thursdays
Visit Downtown every Third Thursday from May until September!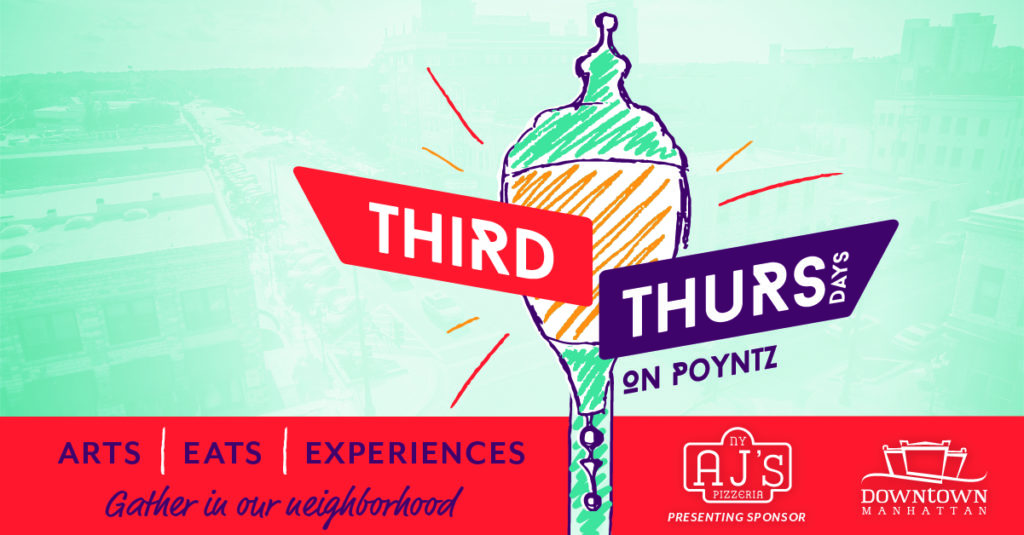 MANHATTAN, KS, June 17th, 6:00 p.m. – 8:00 p.m. — Due to the extreme heat forecasted for Thursday, we will delay the start time until 6pm. We encourage the community to take advantage of the happy hour and dining specials before walking the Third Thursday loop along Poyntz Avenue. June's Third Thursday will be our largest to date with local artists, performers, entertainers and businesses overflowing our sidewalks. Third Thursday is a family friendly event that has something for everyone.
June's Third Thursday proudly features…
A cake walk with bakery goodies by Bourbon & Baker at 6:30 p.m.
The Church Ladies
Children's art project with Artastic
Strecker Nelson West Gallery Trunk Show
Tanzanite Adult Cheer Team
Live music on the patio at AJ's Pizzeria
Food and drink specials from Downtown restaurants
Artists of various mediums including:

Matthew Olson- Author
Patricia Adams- Oil on Wood & Watercolor
April Wagnon- Jewelry
Alicia Stott- Artist
Ginny Young- Paint
Lisa Jean- Belly Dancing
Daphne McNelly- Mixed Media
Mary Gordon McFall- Printmaking
Kathleen Larson- Flight Risk
Cynthia Nihart- Watercolor and Soft Pastel
Judith Willingham- Jewelry
Lianne Clements- Jewelry
Emily Vosberg- Macrame Artist
Jill Nixon- Pottery
Jason Stewart- Caricature
Amber Shuman- Artastic
Regina Costanzo- Mixed Media
Emma Reitz- Photography
Terry Remple- Pottery
Jeremy Ricci- Printmaking
Nate Hernandez- Box drums
Miss Emily's School of Music- Rockband
The Library- Book Stand
See you on June 17th!
Interested in exhibiting or performing for Third Thursdays? Fill out this form. 
Special thanks to AJ's New York Pizzeria for being the 2021 Presenting Sponsor and Eagle Communications for being our Neighborhood sponsor of the Third Thursdays event series