Third Thursday
August 18 @ 5:00 PM - 8:00 PM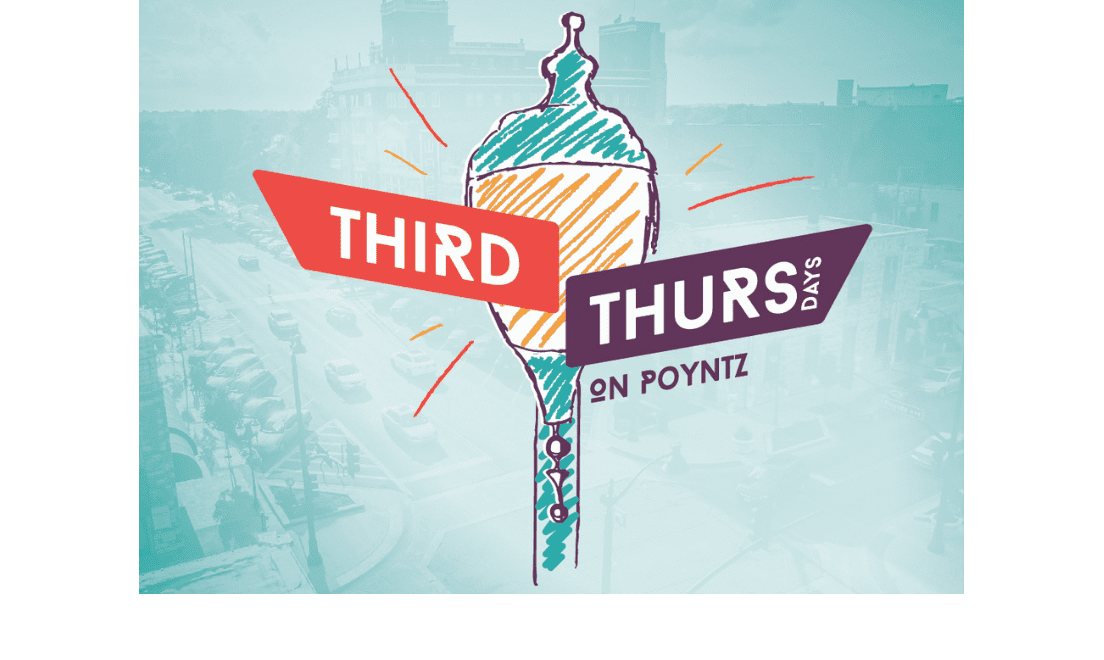 MANHATTAN, KS – 5 p.m. to 8 p.m.
Every Third Thursday May – September 
Stop by Poyntz Avenue and enjoy the art, cuisine, music and experiences of Third Thursday! The Third Thursday season may only last through summer, but the fun is just beginning. Engaging activities will be available for both young and adult attendees, ensuring that everyone who comes will find something they enjoy.
See you again August 18th!
August Artists
Flight Risk Aerial Display – Aerial silk and hoop display
Ginny Young – Paintings, art cards, and more
Daph & Co. – Watercolor and mixed media paintings
Broken Canon Cosplay
MHK Made – 3D printed, laser cut, and engraved art
Matthew J. Olson – Author
Ann Warren – Henna
Manhattan KS Dance Community
Paulicia Williams – Mixed media art and handmade greeting cards
Terry Remple – Hands on pottery
Katie Benson – Face painting, balloon twisting, and more
S&K Gray Crafts – Woodworking
The Grateful Dudes
Missy Burke – Polymere clay earrings
Prism x Peak– Vibrant landscape paintings
Felicia Jefferson – Urban abstract, African American, and mystical paintings
Rick Smith– Solo 7-string Jazz guitar
The Haymakers– Bluegrass style string band music
Tre's Squeeze Lemonade
Emily Vierya – Paper mache sculptures
Maria Jose Vera – Homemade candles
Children's Chalk Corner with United Bank and Trust – Chalk art
Farmer's Insurance – Bubble machine
Greater Manhattan Community Foundation – Winning commemorative art poster
Participating Businesses
The Bourbon & Baker Cake Walk – 6:00pm in between Bourbon & Baker and the Salvation Army
Manhattan Brewing Co.: Join Quacky at Manhattan Brewing Company for your opportunity to win fun duck prizes and adopt your ducks for our 8th Annual Duck Dash kick off party!
Wooly Bee Farms, Picalilli Farm, and Davis Farms will be here selling fruits, produce, meats and more!
SNW Gallery & Custom Frames: All regular price glass and ceramics 10% off, select ceramic pieces up to 40% off, and all unframed works on paper 20% off!
Finn's Neighborhood Pub: $11.00 60oz Domestic Pitchers and $15.00 60oz Premium Pitchers and The Cover-Ups will be performing live from 8:00-11:00!
Flight Crew Coffee: We have French sodas and iced tea, so if you're looking for an alternative to coffee or looking for something cool and refreshing, stop on by!!
The Boutique: Open until 8pm and 3rd Thurs Thread rack with 75% off!
Pine & Plaid: Our famous 3rd Thurs Threads Rack at 75% off.
Gaia Salon: Bring 3 food items for the Breadbasket and receive Hair Tinsel!
Brown's Shoe Fit Co.: 2 for $100 Heydude sale for this August Third Thursday, along with our summer clearance sale!
Pool House Kitchen & Bar: $6 Painkillers and $4 Hotdogs
Arrow Cocktail Lounge: $6 Old Fashioneds, House Gin & Tonics and House Wines & $14 Sicilian Pizzas
Bling: Open until 8pm and offering 20% off regular priced merchandise for Third Thursday!
ROOTED: Open late until 8pm.
Tallgrass Tap House: Live music on the Rooftop from 8pm-10pm!
El Patron: $5 Lime Margaritas, $8 Coronaritas, $6 Palomas, & $11.50 El pollo!
Furnish:  Furnish will be doing a product give-a-away no purchase is necessary!