Spirit of the Holidays Lighted Parade
This year's parade will be held on Friday, December 4th, 2020 at 5:30 p.m.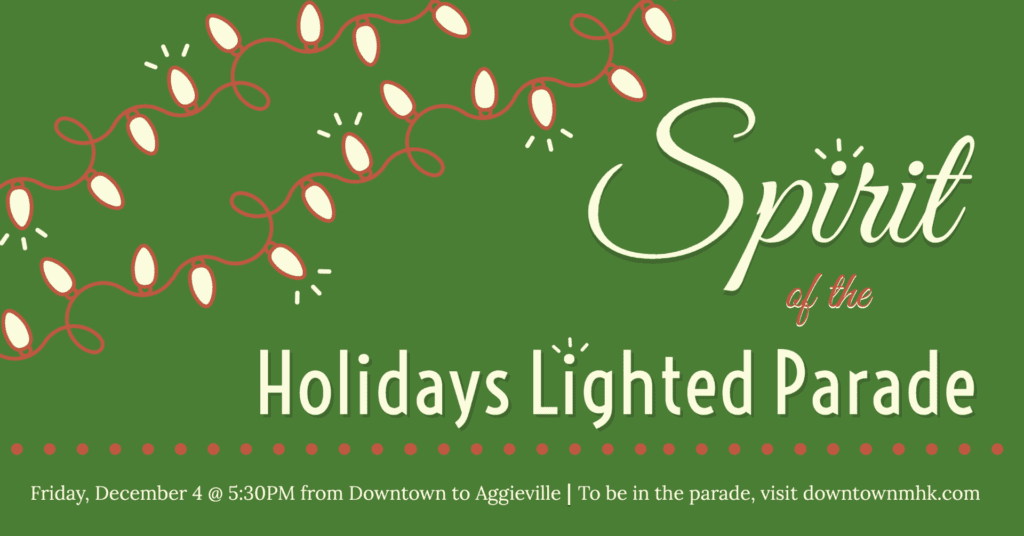 The parade is full at this time.
Parade Route: 3rd Street & Poyntz Avenue — 11th Street — Moro Street — City Park
Parade Day Timeline:

3:00 PM ······ Staging: We will be lining up in the parking lot west of Dillard's again. You will be emailed before the parade with an assigned line-up time based on your position in the parade.
5:30 PM ······ Parade Begins Downtown
Parade Ends in City Park. All entries must continue through Aggieville to City Park. There will not be an in-person tree lighting ceremony in Triangle Park this year.
PARADE DAY:
The following streets will be closed beginning at 2:00 PM:
3rd and Leavenworth
3rd and Humboldt
4th and Humboldt
There will be NO PARKING beginning at 2:00 PM: 
On Humboldt between 3rd and 4th Streets – this is a tow zone
In the west Dillard's lot – this is a tow zone
Just prior to the start of the parade the following roads will be blocked to thru traffic:
N. 3rd Street and Poyntz
S. 3rd Street just north of the AJ's parking lot
N. 4th Street at the alley
S. 4th street at the alley
S. 5th Street at the alley
6th Street at the alleys
Juliette at the alleys
Parking will remain open on Poyntz Ave and no cars will be towed on Poyntz. HOWEVER, if you are parked on Poyntz at the start of the parade, you will have to remain in place until the parade passes.
Questions? Call 785.537.9683 or email brooksie.historicdowntown@gmail.com