Spirit of the Holidays Lighted Parade
This year's parade will be held on Friday, December 4th, 2020 at 5:30 p.m.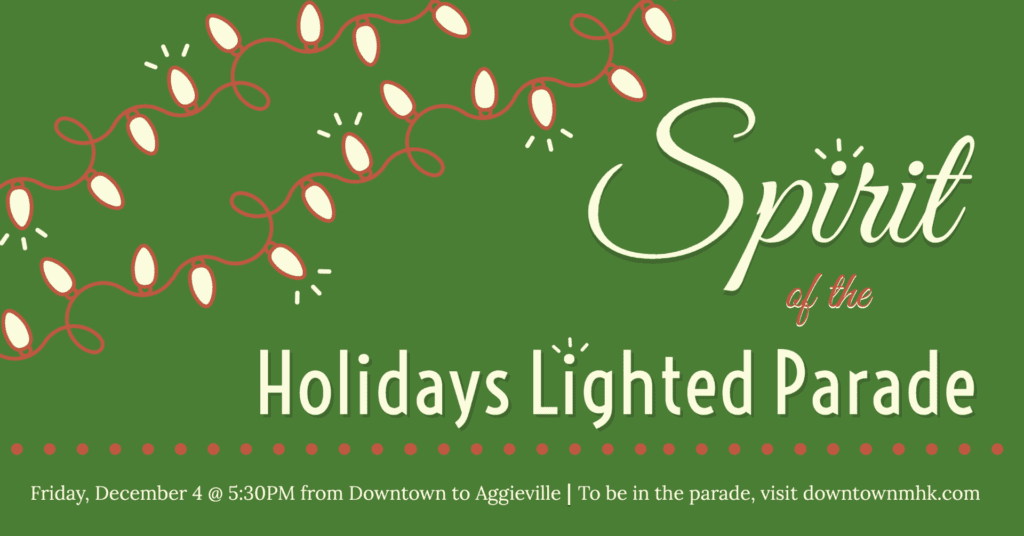 OFFICIAL ENTRY APPLICATION
Parade Entry Fee: Please take a cash or food donation directly to Flint Hills Breadbasket
Parade Route: 3rd Street & Poyntz Avenue — 11th Street — Moro Street — City Park
Parade Day Timeline:

3:00 PM ······ Staging: We will be lining up in the parking lot west of Dillard's again. You will be emailed before the parade with an assigned line-up time based on your position in the parade.
5:30 PM ······ Parade Begins Downtown
Parade Ends in City Park. All entries must continue through Aggieville to City Park. There will not be an in-person tree lighting ceremony in Triangle Park this year.
PARADE GUIDELINES:
ALL ENTRIES MUST HAVE LIGHTS!
No walking groups are allowed this year due to the pandemic.
Masks must be worn at all times.
Maintain social distancing from everyone outside of your parade entry, including spectators.
All participants must stay with their float entry at all times, including in the staging area.
All participants should dress in warm clothes.
Costumes are strongly encouraged for all participants.
No entry may feature Santa in order to avoid multiple Santa sightings.
It is PROHIBITED to distribute candy or any other trinket during the parade.
All entries are required to maintain the spacing set up at staging – Do not allow gaps!
All entries are subject to approval by the Parade Committee.
The group contact person must initial and sign this application and all entrants must be familiar with the guidelines included in the application
All awards will be determined by the Parade Committee. This year's awards include:

Mayor's Trophy/Best in Show: The winner must show originality and have a significant light display.
Best Use of Lights: For the entry that uses lights in the most creative way to enhance their entry.
Best Youth Float: For the best entry by a group composed mainly of children.
Best Bicycle Entry: Best individual or group on bicycles.
If you would like to print and fill out a paper form, click here: 2020 Holiday Parade Application
Questions? Call 785.537.9683 or email brooksie.historicdowntown@gmail.com